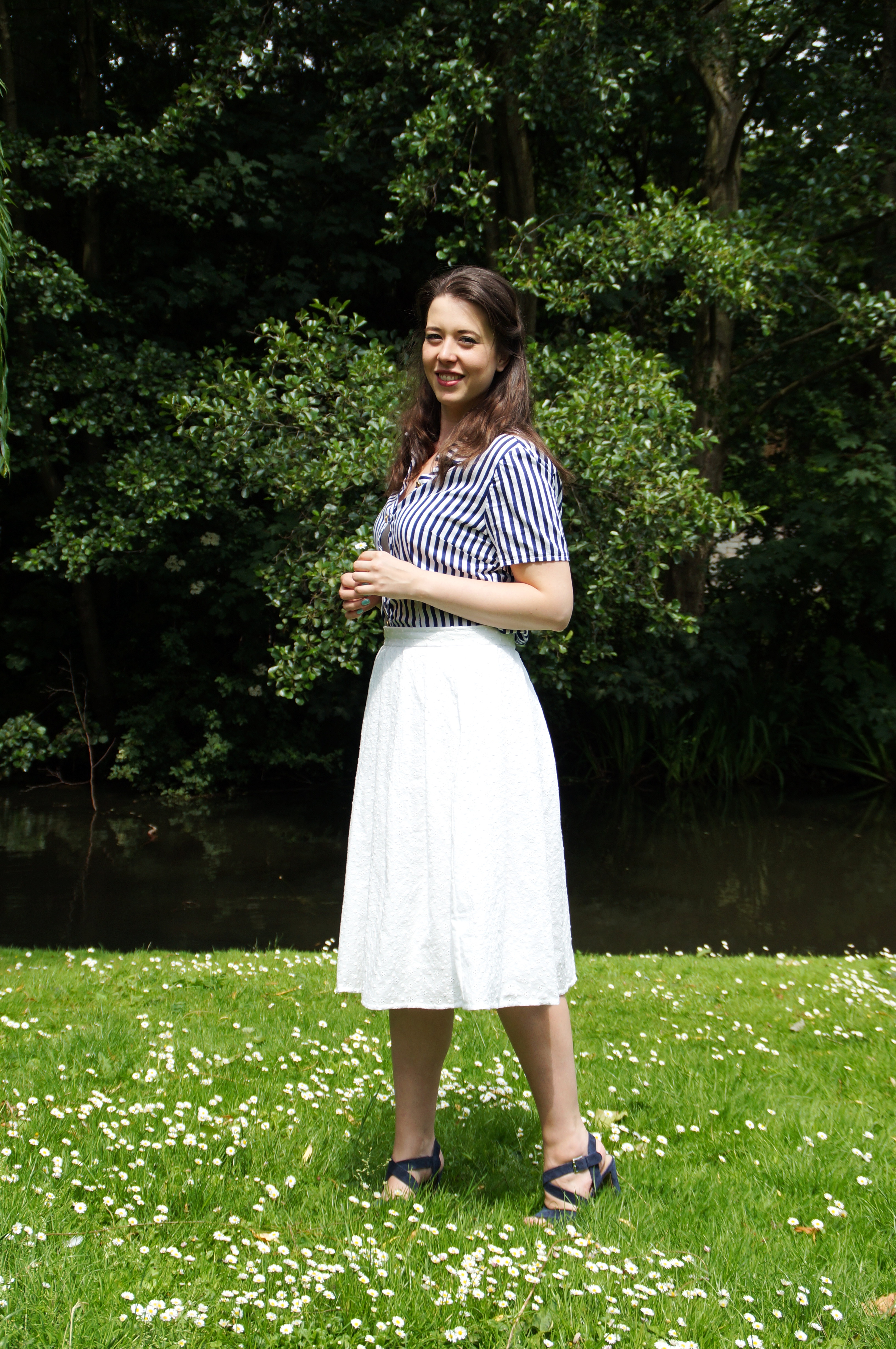 A Rare Sighting – White Lizzie skirt and navy striped M7575
(In David Attenborough voice) Here, you see a rare sighting of the Nina in light clothes. Don't make any sudden moves or noises, as this will scare her back into her black clothes very easily. Also very extraordinary; she also used a non-Sew Over It pattern for once! 😱
Ahum. Sorry about that, but yes, I did actually make something summery! Two things really; a white broderie Anglaise Sew Over It Lizzie skirt and a McCalls 7575 in a navy and white stripe. Let's start with the M7575!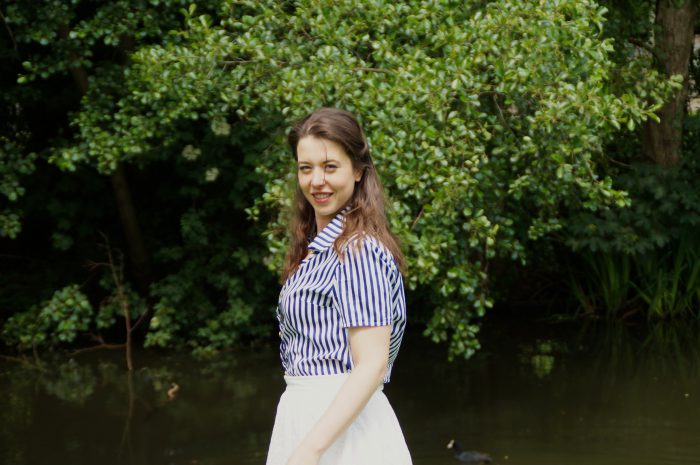 Navy and white stripes M7575 Shirt
I got the pattern for the McCalls 7575 for free with issue 57 of Love Sewing Magazine. I wanted to make this after identifying a gap in my wardrobe for short sleeved tops suitable for the office. At the previously mentioned fabric market I also bought this remnant for €5. I still get a kick out of being able to turn inexpensive fabric in something that doesn't look cheap 💪 It's a cotton, maybe a cotton sateen, as it has a slight sheen to it.
This shirt took quite some time… I had it all cut out, but then I had a long week in which the pain and lack of energy were bothering me, so I couldn't work on it. No biggie really, but I did want to get it out of the way. So once I started sewing again, I did rush it along a bit.
Never the less, I think it did turn out as I had imagined it. I may not have paid that much attention to matching the stripes, I did end up with a great shirt!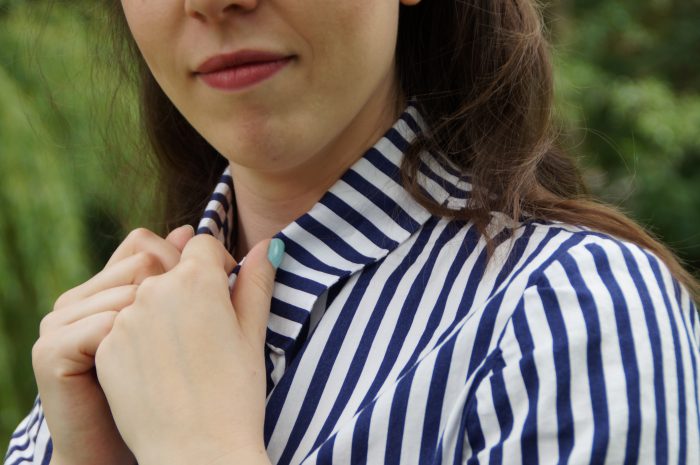 I'm also pretty pleased with the buttons I used. They are vintage metal ones. It makes the shirt look a bit more nautical and vintage, which I love!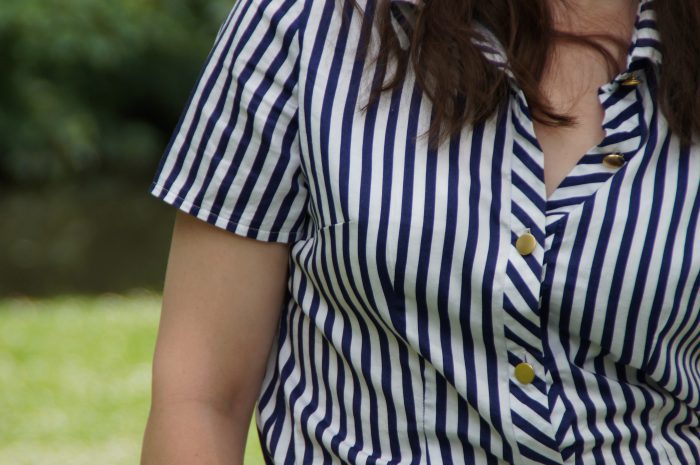 The pattern itself isn't too difficult, but I didn't use the tissue fitting method that is described in the instructions. It might be foolish, but I felt I could take the risk and didn't want to spend my limited energy on not-sewing-things. In the end I didn't have any fit issues, though I would love to learn more about tissue fitting someday. It does gape a bit, so I'm going to sew some small press studs to prevent that from happening. (I found out about this while I was already at the office 🙄 this exactly why I always have a safety pin with me!)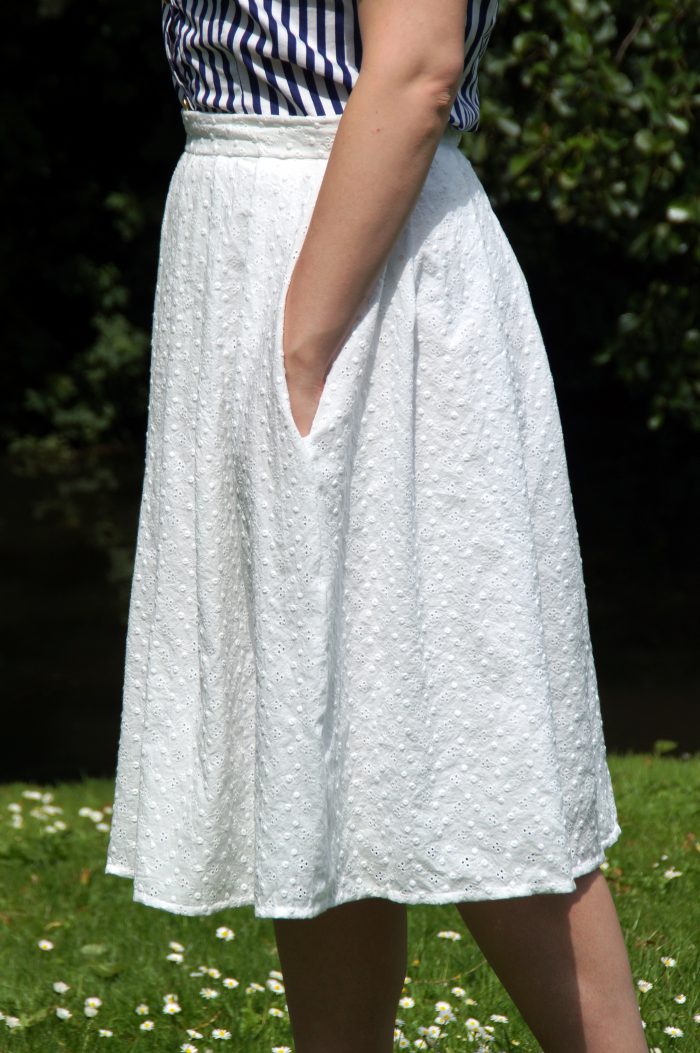 White broderie Anglaise SOI Lizzie Skirt
For a while I've been wanting a white skirt. During Me-Made-May I found myself in dire need of bottom garments that could combine with my me-mades. And as Summer is nearly here (it's bucketing down right now, but hey ho), I thought a white skirt would be an awesome addition. I am a bit of a romantic, so no plain white for me, but broderie Anglaise ❤. (Which is totally inspired by the one Lisa is wearing on the pattern cover by the way.)
I found some the last time I went to a fabric market, I think it was about €5 or €6 per meter. For the lining I used a plain white cotton I had in my stash. I bought about 8 meters of cotton in a car boot sale a year ago, with the intention to use it for toiles, but so far I've used it in actual garments.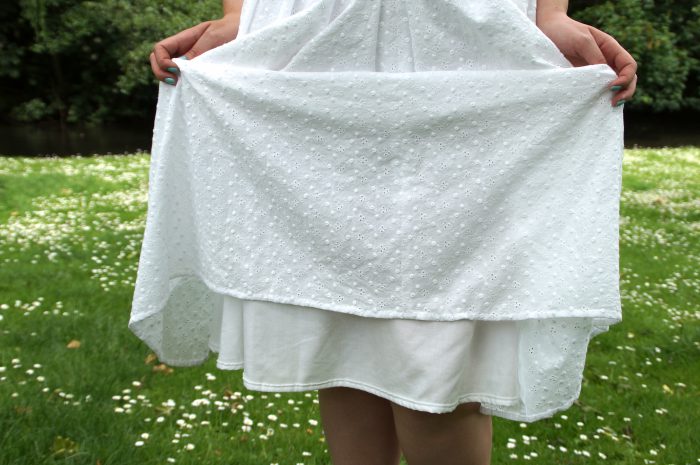 I made a Lizzie skirt about half a year ago. Apparently I cut out a size 18 then, which is way to big now. Yay for losing weight, but nay for printing, taping and cutting out the pattern again. I ended up taking in the pleats quite a bit, but it worked and it looks like it's supposed to. The side seams I also took in with a couple of centimetres. It does fit a lot better, but I maybe would have gotten away with one or two extra centimetres taken in.
I also hemmed it like a regular skirt. On the pattern cover it looks like their version isn't hemmed at all. I want it to last a long time and the fabric did fray a bit, so I overlocked it and made a narrow hem by hand.
I love the way it turned out! Because it's all cotton, it's really comfortable and breezy, but still quite weighty and structured. I do feel a bit like a princess in this 👸. I might end up shortening the lining, because the holes don't really show. But first it's coming on holiday to Sicily next week! 😀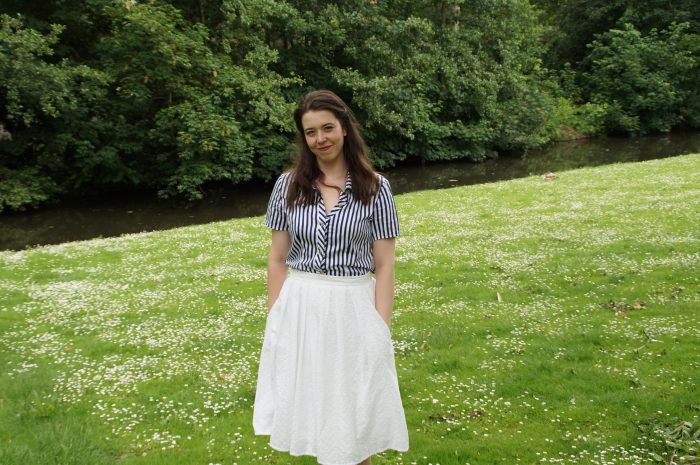 The outfit as a whole
I did intend to wear these two together in my head. It sort of works and I might wear the combination to the office when it's really warm, but I think I'l wear them a lot separately as well. The shirt looks great on my RTW blue jeans as well. And as I mentioned I have a lack of short sleeved tops, so the upcoming months I'll probably focus on that, making them go with my new Lizzie of course! Maybe I'll even make some more light coloured things and it won't be a rare sighting anymore 😉