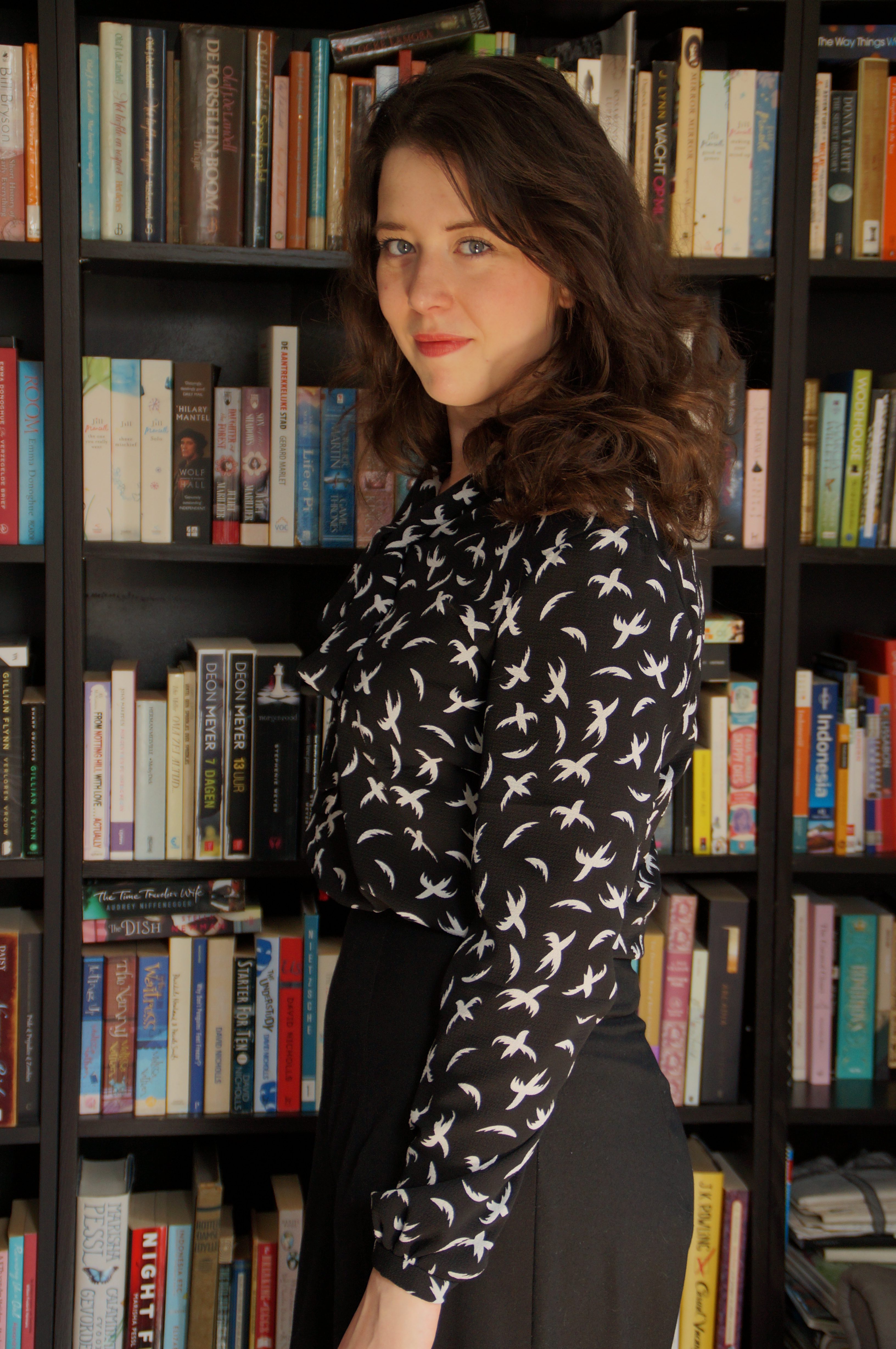 Two for one – Pussy Bow Blouse and Cami
At the Knitting & Stitching show in March I bought a gorgeous black and white crepe at Sew Over It that was screaming to be made in another Pussy Bow Blouse. I have two already, but I wanted a black one that I could combine easily. They probably gave me a bit more, but I think I bought 1.5 metres.
I always try to leave remnants that are big enough to get something extra out of it. This time I knew right away that I wanted a SOI Silk Cami out of this same fabric. And while positioning my first few pattern pieces, I noticed that that wouldn't work unless I cut it out at the same time. It was a tight fit, but I managed it!
The Pussy Bow Blouse
Anyway, I made the Pussy Bow Blouse in a straight size 16. According to my most recent measurements I could have gone for a 14, but I didn't want to print the pdf again, plus I don't mind it if it's a bit loose.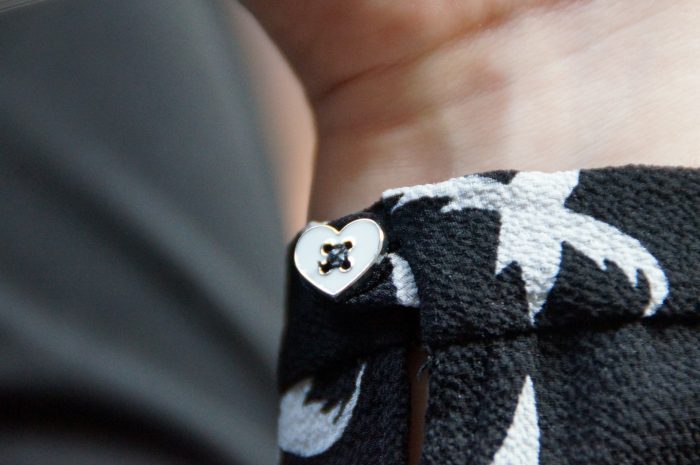 On the cuffs I used these cute buttons I got at Liberty. (They were a bit more affordable than the fabric.)
That makes this my best London souvenir I think 🙂
It is my overall favourite so far. I love how good it looks tucked in my RTW black jeans or my Decades of Style Empire Waist Trousers. Especially the last combination makes me feel like a million dollars!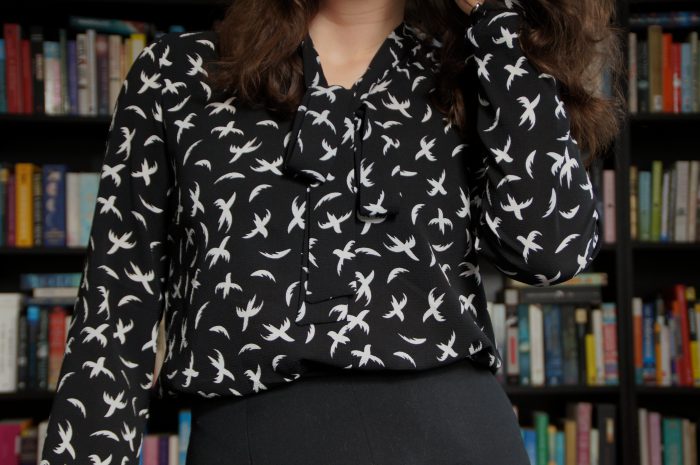 The Cami
I made a lot of Camis over the summer, more than my pattern pieces can handle 😂 I'll have to trace it again soon, but for now I used the size 16 that I already have. Having said that, I found that the Camis I made weren't that comfortable across the bust, so maybe I'll keep making them in 16, as that seems to fit fine now.
To be quite honest I kind of rushed this one. I had a strong need to finish something and this was going to be the quickest project. The pressing and finishing is therefore not great, but the good thing about black is that you (hopefully) can't tell.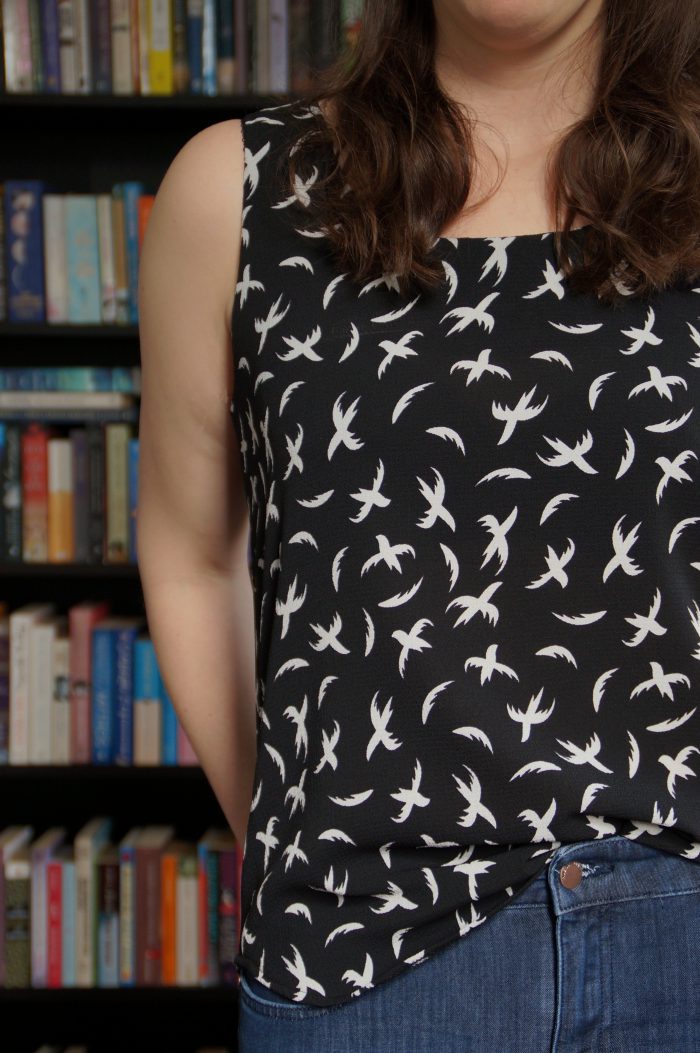 I'm not sure yet how often I will wear the finished cami. Even though the fabric was suited for the pattern, the fact that it's synthetic, but sleeveless, makes it something to wear with a cardigan. And I'm hoping we don't need those for much longer! But we'll see.
The Fabric
The crepe didn't press that well, as crepes often don't, but otherwise it was great to work with. Because of the rough texture it didn't slip as much while sewing. I have washed the pussy bow blouse a couple of times now, and it seems to hold really well. It looks the same as the unwashed (except the pre-wash) cami.
All in all I'm really pleased I managed to get both out of less fabric than the Pussy Bow Blouse alone calls for!
Do you play a lot of fabric Tetris?