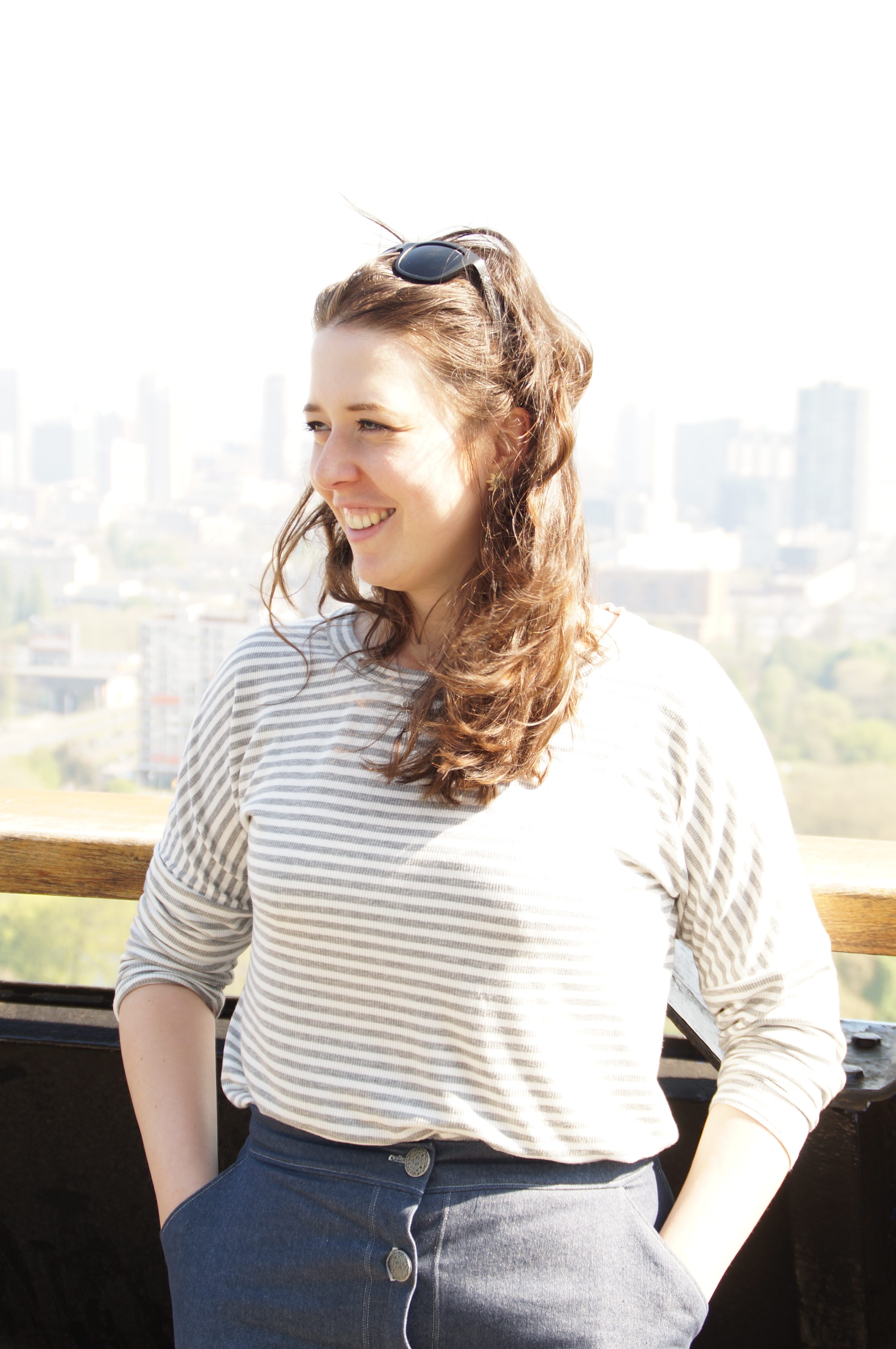 Easter Outfit – Erin Skirt & Molly Top
Spring is in the air! And after making a couple of things for other people I wanted a new outfit for Easter brunch with my parents and grandmother. We were going to the Euromast, which gives a great backdrop! 🙂
Erin Skirt
I used to hate denim skirts. I thought they looked old fashioned and too conservative for my tastes. But, as always, things change! And especially after seeing gorgeous outfits on Instagram, I HAD to have one of course 😅
I bought some denim about a year ago to make the Closet Case Ginger jeans, but I never got round to that. And I kinda don't want to make them yet, as I'm still losing some weight. So why not use it for something I want right now?? 😁
I made the SOI Erin Skirt from the My Capsule Wardrobe e-book. Mainly because I had already had the pattern ready to go and wanted to finish it before Easter. As I'm used to with SOI patterns it pretty much fitted straight away. I only took in the waist a bit.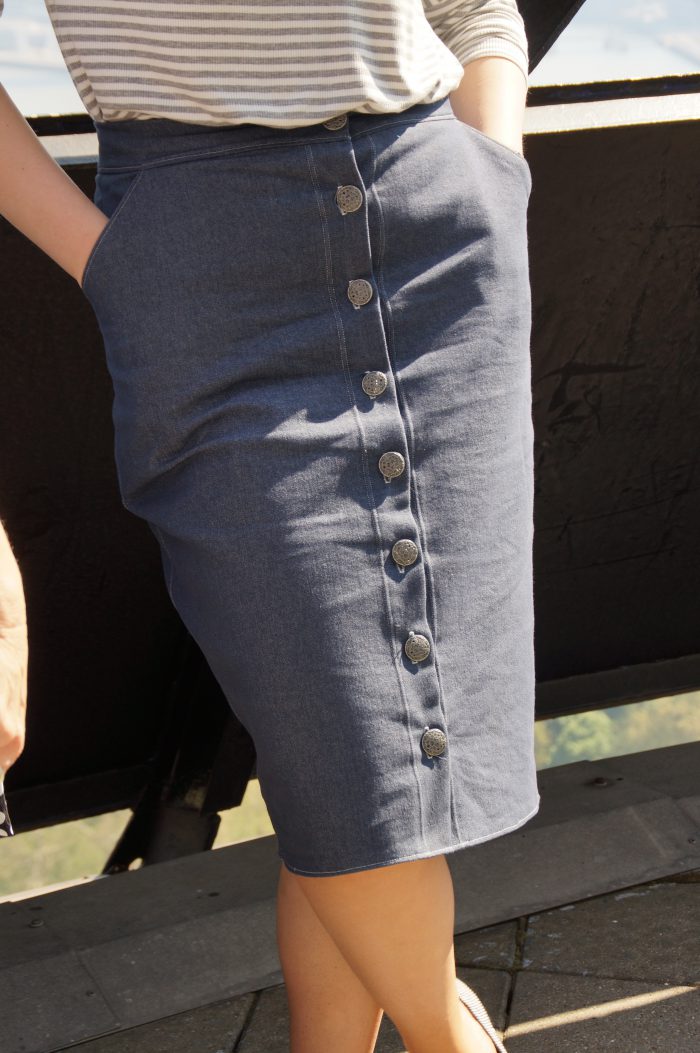 Feeling pretty pleased I wanted to wear it the next morning to the office. I didn't really think about, but that wasn't the best idea, as I cycle to work. I unbuttoned the lowest button, but as I was crossing a van cut me off… Nothing really happened, but I had to suddenly step down from my bike. The second from last button couldn't take that, and popped of, not even 200 metres from my front door 😒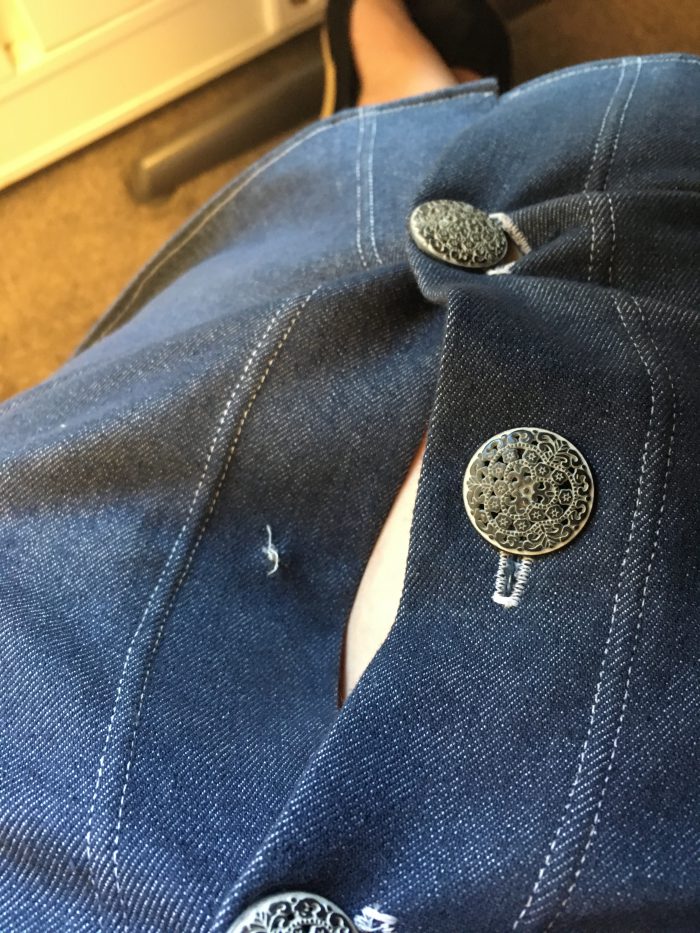 I sort of fixed it by looping a paperclip with thread. When standing up you couldn't really tell. Kind of a bummer, but I still got compliments 🙂
Molly Top
Every so often I take a look at my stash to see what takes my fancy. I totally forgot I had this silky soft ribbed jersey in there! And, lucky me, it totally works with the Erin. Inspired by the combinations in the Capsule Wardrobe e-book, I wanted to make a Molly top. I made a Molly top before and I think it's one of my most worn items.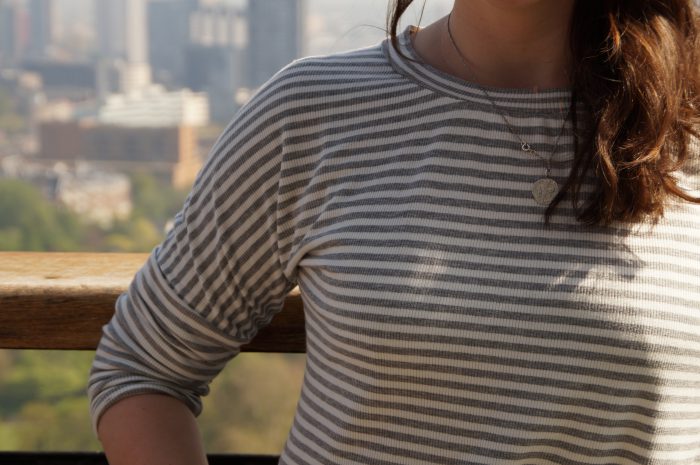 I made a straight 16, as I didn't want to print the pdf again. I think in hindsight I could/should have sized down, but I do like the oversized comfort of it.
I did cut some corners when cutting it out. I didn't line up the stripes fully, but I think I got away with it. I shifted the pieces around a bit and played with the seam allowances to make it (almost) line up. It's not perfect, but hey, what is? 🙂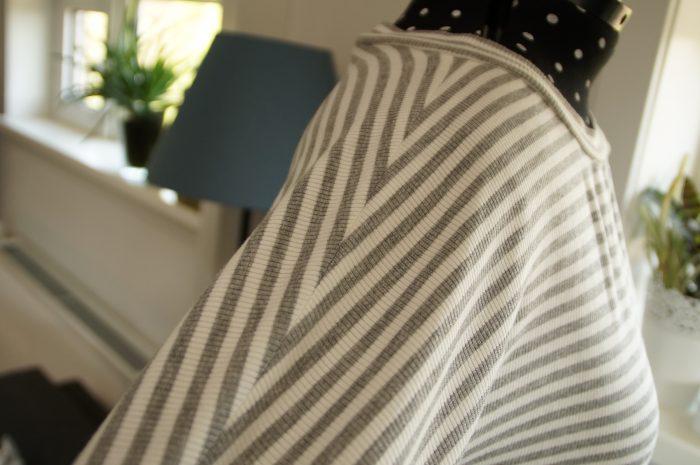 The outfit
Overall I'm happy with how the outfit turned out. It is exactly what I had in mind. I do think the jersey is a bit unstable, but it's so soft, it's forgiven 😉 And I'm pretty sure the skirt will be in heavy rotation this season!